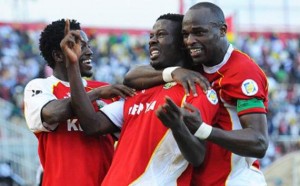 International friendly match against Libya on February 6 in Tunis lined up by Harambee Stars.
"I will invite most of the foreign-based stars who I intend to use in the match against Nigeria," Harambee Stars coach James Nandwa said "It is good the federation has organized a friendly which I do believe will be important to us as we prepare for the match against Nigeria." Said Nandwa.
Stars will use the tie as part of their build up for the key World Cup qualifier against Nigeria in March 22.
A tournament Kenya failed to qualify, starting on Saturday; the Football Kenya Federation will be using the Fifa international day to gain a fixture while Nigeria will be busy in the Africa Cup of Nations.
"I plan to have the foreign based players and also see who to call from the local based stars. As you are aware the local league is still on a break but at least the players are back on pre-season which is a plus to us," added Nandwa.
Libya was initially given hosting rights to the 2013 Africa Cup of Nations but following a civil war Confederation of African Football switched the tournament to South Africa.
"We want to have two matches before we play Nigeria. The second friendly will not be on a Fifa day but we are still looking through the invitations we have received." Kenya must beat Nigeria to remain in contention for a ticket to the 2014 World Cup slated for Brazil.
Read also:
http://en.africatopsports.com/2013/01/11/afcon-2013-gauteng-ready-to-kick-off