Starring for Great Britain at the Women's Olympic Football Tournament was an obvious highlight, with memories of beating Brazil in front of a capacity Wembley crowd still capable of producing goose bumps. But Little's campaign with Arsenal was almost as impressive, ending as it did wiyh her leading both the FAWSL goals and assists charts, clutching another league medal, and having scored a stunning winner in the cup final. The 22-year-old also inspired Scortland's women to unprecedented heights, and to within a few seconds of shocking Spain claiming a historic berth at the European finals.
And yet, asked to sum up her season towards the tail end of 2012, she opted for an unexpected adjective: "average". However, if this seems a remarkable description for a year in which, to most observers, she excelled, it is merely because little is hungry and ambitious enough to set herself the most demanding of standards.
kim
"I don't want to think that just because I finished top scorer and won another couple of medals that that's good enough, especially when I know I can do better. It wasn't a bad season, but I expect a lot of myself and I still feel I can perform better. Hopefully I can show that in 2013" she explained to FIFA.
"Don't get me wrong: I really enjoyed 2012. To be involved in something like the Olympics here in Britain, and see the way the team was received, was very special. But I also took a lot of pleasure from the success we had with Arsenal, and can look back and really appreciate how far we came with Scotland. There's always room for improvement though."
I'd expected a lot from the Olympics, living in London, but it surpassed everything I'd hoped for.
For Kim little, 2012 seemed to represent something of a breakthrough year. After all, while the indisputable talent of Arsenal's Scottish midfielder has been evident for some time, it was only over the past 12 months that it became visible to a global audience.
Kim Little on London 2012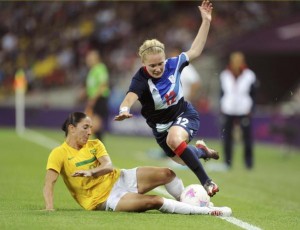 There was certainly nothing 'average' about Little's experience at London 2012. The 22-year-old had witnessed with excitement her adopted city readying itself for the Olympics, but nothing could have prepared her for the way in which Britain's capital – and the country as a whole – took Team GB to their hearts. Little is also convinced that the atmosphere and unique demands of this major tournament helped raise her game to a new level.
"I've definitely improved," she said. "That experience of playing at a tournament like that can't be compared, and I learned so much, going up against those great players, especially in that kind of environment. I'd expected a lot from the Olympics, living in London, but it surpassed everything I'd hoped for in terms of the way everyone got behind us. The Wembley game especially was just ridiculous, and then there was the closing ceremony. I'm smiling just thinking about it."
Read also:
http://en.africatopsports.com/2013/01/18/premier-league-luis-suarez-admits-to-falling-for-penalty