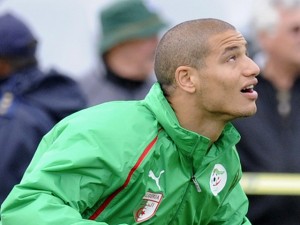 Adlene Guedioura was just four years old when Algeria last won the CAF Africa Cup of Nations (CAN) as hosts in 1990, and he hopes that the current squad – who he describes as his "family"could go just as far this year.
"We wish to one day have this for people in Algeria again. Why not? We need to work and prepare for it first," he told FIFA.com. "I remember the 1990 tournament a little bit. You could feel the atmosphere because my family all follow football, and it was in Algeria. It was something that was good for the country."
The Algerian midfielder will be playing in his first pan African competition in South Africa but it will not be his first international tournament in the country having represented Algeria at the 2010 FIFA World Cup.
"I'm really excited because it's going to be my first Cup of Nations," he said. "I'm also very excited because it's in South Africa. When we went to the World Cup it was really good because there were a lot of new stadia and it's a good country.
"It's one of the best memories of my career because it was my first World Cup. It's something I wanted when I was young, and I did it, so I was really happy. We did well against England and it was a great World Cup with good organisation, and it is a beautiful country."
Many of Guedioura's international teammates are gracing the top leagues in Europe, with Valencia winger Sofiane Feghouli, AC Milan defender Djamel Mesbah and recent Marseille recruit Foued Kadir all plying their trade for the continent's heavyweights.
"I think now when you see our FIFA ranking we are not too bad. We are 19th and it is the best ranking in our history," he said. "Every time we are together it is great. You can ask all the players what it's like, it's like a family."
"Right now we have a new generation," Guedioura continued. "We are starting to build something good especially with this manager. We have an experienced manager (Vahid Halilhodzic) who has good experience with the Côte d'Ivoire. We believe in him and I think he's going to take us very far. I have confidence in the team, we may be young but we have a good mentality and spirit."
Les Fennecs narrowly missed out on the 2012 edition of the CAN and this time around they face a tough group which includes Togo and Didier Drogba's Côte d'Ivoire. Their opening match of the tournament will be a hotly-contested North African derby.
"The first game against Tunisia is very important we need to start well and we hope to start with a win. If we start well against them, it will show us if we have prepared well and if we are ready for the rest of the competition."
Since departing for the tournament, the midfielder has been inundated with messages of support on Twitter. The former Wolverhampton Wanderers midfielder enjoys a unique relationship with his 26,000 followers and he gave an insight into how footballers and fans interact on the social networking site.
"With Forest, I came on loan and it was a good period because people think I did well. When I went back to (parent club) Wolves, the Forest fans started to tweet me on my holidays. They said 'come back to the club' and it's something special when the fans and the people at the club want you to come back.
"If I hadn't had that interaction with the Forest fans on Twitter, then maybe I would have stayed at Wolves," he said. "I also had other offers in Italy, in France and even in Qatar. I was looking for a good challenge but when you feel wanted it is better and that is what I want in my career."
@AdleneGUEDIOURA, as he is known on Twitter, sports the No7 shirt at Forest, and he reveals that decision was down to his followers as well. "I used to wear the No22 when I was here on loan and when I came back at the beginning of the season, the No7 shirt was free. I asked the fans on Twitter which number they preferred, seven or 22 and lots of them said No7 – so I chose that number."
His club side had a change of manager just as Guedioura departed for the CAN, with former Scotland boss Alex McLeish taking the reins at the City Ground.
"I look forward to working under him. We have to move on. Football is like this sometimes. When you are a footballer you need to look forwards and be professional."
As well as returning to club football in England after the CAN, the midfielder will be eagerly anticipating the remaining 2014 FIFA World Cup qualifiers. Algeria currently sit second in their CAF qualifying group above Mali and Rwanda. His side are a point behind Benin who they face in their next qualifier in March.
"We aim to go to Brazil, that's where we want to be. Especially because this World Cup is going to be a special competition because it's going to be in the country of football. Brazil is special. That's what our country wants, what the players want and what the manager wants too."