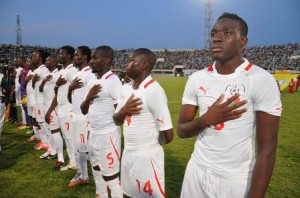 With players like Jonathan Pitroipa (Rennes, France), Alain Traoré (Lorient, France), Charles Kaboré (Olympique de Marseille, France), Aristide Bancé (Augsburg, Germany), Burkina Faso has enough reasons to pretend to play leading roles in Afcon 2013.
But these individuals were at the Afcon 2012 and had failed to qualify for the next round.
Worse, the Stallions when led by Paulo Duarte left the country without a single point.
"I think we've learned from what happened in the past and we have the means to compete in the quarterfinals," said Bancé.
When facing tonight the Super Eagles of Nigeria, they are a series of 17 matches without a win in the finals of Afcon. Their last victory was in 1998 at home against Tunisia on 21 February.
The results of the Stallions in the final round of the Afcon from 1998 to 2012
Afcon 2012
Burkina Faso-Angola (1-2), 22 January
Côte d'Ivoire-Burkina Faso (2-0), 26 January
Sudan, Burkina Faso (2-1), 30 January
Afcon 2010
Côte d'Ivoire-Burkina Faso (0-0), 11 January
Burkina Faso-Ghana (0-1), 19 January
Present in the group, Togo withdrew from the Afcon after the tragedy of Cabinda
Afcon 2004
Senegal, Burkina Faso (0-0), 26 January
Burkina Faso-Mali (1-3), 30 January
Burkina Faso, Kenya (0-3), 20 February
Afcon 2002
January 20, South Africa-Burkina Faso (0-0)
January 26, Burkina Faso and Morocco (1-2)
January 30, Burkina Faso-Ghana (1-2)
Afcon 2000
Burkina Faso, Senegal (1-3), 25 January
Zambia-Burkina Faso (1-1), 29 January
Burkina Faso-Egypt (2-4), 1 February
Afcon 1998
Burkina Faso-Cameroon (0-1), 7 February
Burkina Faso, Algeria (2-1), 11 February
Burkina Faso-Angola (1-0), 15 February
Tunisia, Burkina Faso (1-1, 7-8 tab), quarterfinals, February 21
Burkina Faso-Egypt (0-2), semi-final, 25 February