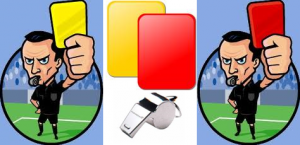 Seven cards were distributed this Monday during the match Zambia-Ethiopia, a record since the beginning of the 29th edition of Afcon
The referee of the match, the Gabonese Otto Castane do not forgive . Just at the beginning of the game (10"), he gives a yellow card to Stoppila Sunzu who tried in vain to prevent Salahdin from moving forward. 23" after it is Chisamba Lungu who is notified.
Jemal Tassew scoops the first red card of the Afcon at the 35th minute. Gabonese Otto-Castane does not like protests. He takes sanction against Aynalem Hailu who did not appreciate the adjudgment at the 40th minute
Musonda is warned with a yellow card after a dangerous action on Getaneh (45"). The refree does not let himself been fooled. He routs out the simulation of Mbesuma at the 69" and did not take long to out the yellow card.
Otogo-Castane, impatient to see the game end is penalized for his slowness in the performance of the key.