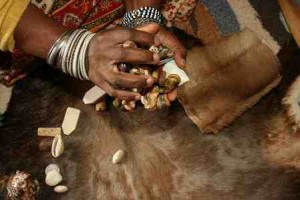 A herbalist from the Eastern Cape, Reuben Matewu, says he can help Bafana Bafana win matches at the Africa Cup of Nations tournament.
South Africa settled for a goalless draw in their Afcon opener against Cape Verde Islands at the National Stadium on Saturday, compounding concerns about their ability to find the back of the net.
"I can help Bafana Bafana for free if they want and I'll do that for the first three matches," Matewu told trufm, a regional SABC radio station, on Sunday.
"Thereafter I will charge them as they would have started winning.
"I'm not like those people who use bad muti. I will only use herbs, which are easily available here in South Africa."
While he would start charging for his services after a few matches, Matewu insisted he was not after the money.
Chief Mwelo Nonkonyana, the vice-president of the SA Football Association (Safa) and chairman of the Afcon local organising committee, said Matewu's offer might be considered.
"We always welcome whatever help we can get to ensure Bafana Bafana do well," Nonkonyana said.
"Let the man speak to me and see what we can do after that."
Sibonelo Madela, a traditional healer from Ulundi in KwaZulu-Natal, had threatened to prevent Bafana from winning matches.
This was after he claimed he was owed R90,000 by Safa for assisting the team during the 2010 World Cup in South Africa.
Madela claimed that Bafana used his muti before their 2-1 victory over France during the group stages of the global showpiece. Despite the win, they were
knocked out in the first round of the competition.
Safa spokesman Dominic Chimhavi reportedly said at the time that Nonkonyana had given Madela R10 000 out of "his own goodwill", but no deal had been made between the inyanga and the national football body