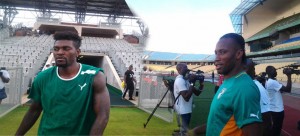 This seems obvious!
Emmanuel Adebayor against Didier Drogba. The duel has never taken place during an encounter of two selections.
The Tottenham striker is the spearheading the team of the Sparrowhawks. All the Togolese's Hopes rest on him.
Firstly, the Head of State, Faure Gnassingbé, who brought him back on his decision when he refused refused to participate in the Afcon.
The former gunner qualified Togo by scoring twice in the double confrontation with the Panthers of Gabon in the final round of qualifying for the Afcon 2013. Even if it does not work much for him this season with the Spurs (16 games, 2 goals, premier league), Emmanuel is one of the stars on the African continent.
His presence on the field motivates his teammates. The coach of Morocco, Rachid Taoussi recognizes the strength of the man.
"Adebayor is simply the handyman in the Togolese team. In addition to his role as a player, the former Real Madrid striker directs his teammates on the ground. He can even make decisions in full match under the eyes of his coach. Those who saw it last Wednesday at Mohammed V stadium unanimously agreed that Adabayor  is a true leader "suggested the coach of the Atlas Lions.
The match against Ivory Coast is far from being a gift! The Ivorian of Arsenal will make his lightning speak! Gervinho, Yaya Toure, Salomon Kalou, Emmanuel, Tioté and especially , Didier Drogba, the goaleador.
His determination forces his admiration. We saw it in the final of the Champions League in 2012. He alone has lifted the champions' trophy for Chelsea.
Against Senegal, especially during the second leg, the Shangai Shenhua player himself has  folded the game.
Having gone to China to compete in the championship, he has not forgotten his sense of scoring. So who can stop him during the competition while the Ivorians were damaged in Gabon in the finals of Afcon 2012 by Zambia following the session of shots?
Drogba, as he thinks more of titles than Togo: "We are anxious to begin. I have no pressure. Ten years ago, after I run after this title. But I think above all to the team before thinking about myself. I am around for Afcon"
"What is said is said" often say Ivorians!