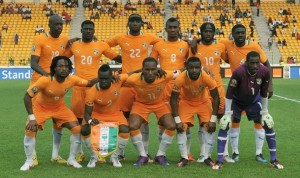 Togo's head coach Didier Six decided the best way of answering questions about his squad's preparation ahead today's meeting with Ivory Coast was humour.
Could he shed any insight into how his 23-man party was finally put together?
And how was his relationship with his captain Emmanuel Adebayor, whose name on the squad list had been in such doubt over the past three months. "When I first took this job, people said, 'You won't have command, you'll be a puppet'," said Six. "Well, the puppet is beginning to move, to talk a bit and act for itself."
The subtext, reporters seemed invited to guess, was that in all the to-ings and fro-ings in what has been a confusing build-up to the African Cup of Nations the fact that Togo have a head coach whose decisions and ideas might animate what they do on the field, had been forgotten.
Six, now in his 50s, used to be a foxy winger for France, who won a continental title with Les Bleus in 1984. His coaching experience is slim, but he evidently has a skill in diplomacy, or else he would not have stuck at the Togo job through 14 months of uncertainty.
The participation of Tottenham Hotspur's Adebayor has been such a hokey-cokey that his relationship with his coach is bound to come under scrutiny, especially when the player himself declared that he had finally agreed to represent his country here in South Africa only because the president of Togo, Faure Gnassingbe, had personally appealed to him to do so.
His reluctance to come softened one minute, hardened the next had fluctuated according to who he had talks with and, he argued, his trust in officials from the Togolese Federation.
Though it should be remembered some of the issues Adebayor had with the federation concerned security following a guerrilla attack on the team bus  at the 2010 Nations Cup in Angola, it is also easy to imagine there have been times when Six felt exasperated.
Adebayor, focused and ambitious, is plainly his team's strongest asset on the field. But the tall striker, once of Monaco, Arsenal, Manchester city and Real Madrid, can also be a challenge.
Not least at international level. Adebayor and the Nations Cup have a fraught back story.
He came to physical blows with Stephen Keshi, then the head coach of Togo, at the 2006 tournament. "He's a crybaby," Keshi said at the time.
He was among players who threatened to strike at the 2006 World Cup, to which he had led Togo to a surprise place at the finals. Adebayor then retired from representing his country after the horrific events in Cabinda, Angola three years ago  three men, two from the Togo delegation, died in the militant attack but returned to help Togo in qualifying for this, their first Nations Cup finals since then.
The challenge ahead of them is formidable. Six's team more often referred to as the towering Adebayor's team meet competition favourites Ivory Coast in Rustenburg to kick-off their campaign.
Adebayor comes up directly against Kolo Toure, the Ivorian defender and vice-captain, and a man with whom he had much-publicised training ground fight while they were together at City. That ranks as a mere footnote in a career of controversies.