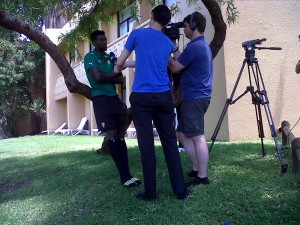 24h after the defeat against the Elephants, Africa Top Sports present in Rustenburg for Afcon 2013, met the captain of the Togolese team. Very disappointed the day before the match and the final result, Emmanuel Adebayor found Wednesday his good humor and sympathy. After a while slagging relaxation, the Tottenham striker responded to our questions and those of our colleagues of France24.
How is the morale of the after the defeat against Ivory Coast?
I think this morning is better than last night. While we are always shot as footballers but we must meet very soon. It was a very good match. Elephants have had problems but unfortunately luck did not smile much. Hopefully Saturday we have a better chance because we are already back to the wall and if we want to achieve our goal of reaching the quarter-finals, we will have to win against Algeria and wait for the last game.
Precisely this last match against Algeria …
They lost their first game as we so I think it will be very difficult. But we know what we have to do: Win. That's it. Against Côte d'Ivoire, was not lucky enough, hopefully it will smile Saturday. Algeria has a good team and to tell you the truth I wonder how they managed to lose against Tunisia. But this is football. We will also confront and see.
What is your role as a leader in the Hawks?
Leader! I do not know. I think it is the mutual respect between us that made the team. I am nothing. Then we can talk about my experience through all the clubs with which I played but I think they know I respect them a lot and they make me. This is so they sometimes do what I say. Nothing more. There are some like Salifou and Agassa with whom I played since childhood so we know one another well.
Interview by our special correspondent in Rustenburg, Steven Lavon