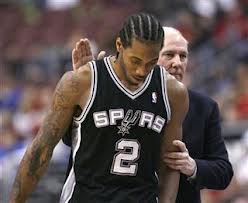 Strange scene at the match between San Antonio and Philadelphia.
Fell after being unbalanced by a Sixers player, Kawhi Leonard injured his knee and went to the locker room to be examined.
The winger said he was injured by a nail …
"I just struck the floor where there are the nails," he says in Spurs Nation. "It really opened my knee and I had a funny feeling on the next possession, trying to go to the basket. I had to go out to see what was wrong. ".
Watch the video here:
http://www.youtube.com/watch?v=fS0vlZoOCKs&feature=player_embedded