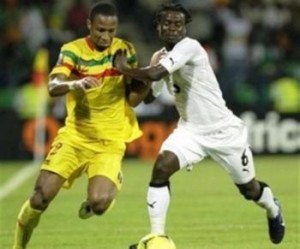 Held in check by the Congo last Sunday (2-2), Ghana was forced to win. The situation is more comfortable for Mali, Niger winner difficult (1-0) with a flash of his captain Seydou Keita.
Deprived of a handful of major players for the CAN (Ayew brothers, KP Boateng, Essien, Muntari), the Black Stars have trained younger with 10 new faces.
From the start of the game, the first balloons Mali. The Eagles pass quickly on the attack and it failed to pay the eighth minute.
Left in contact with the edge of the area Keita, the Ghanaian goalkeeper made a foul. He comes out with only a yellow card.
During the first 15 minutes, the control is Mali, Ghanaians are on the lookout for cons. The Mali tries to break through the midfield, but still difficult to approach the goal of Dauda.
Over time, the battle raged in midfield. Some inaccuracies prevent the two formations be truly dangerous in the area of truth.
The Black Stars invest more the opponent after a difficult start to the match. In the 32nd minute, Ghana missed a goal.
Badu a header uncrossed almost perfect on center Afful. Samassa the Malian goalkeeper stayed on his feet nailed. A power to invest the camp Mali, Ghana pushes Eagles at fault.
At the 36th minute, Agyemang Badu gets a penalty. It is carried by a tackle from Tamboura the surface. Wakaso converts the penalty and scores for Ghana.