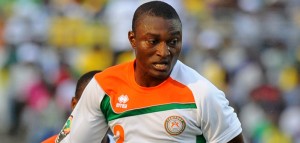 In its history for the African Cup, the Mena of Niger has never scored a point. Facing the DR Congo this afternoon, analysts may say that the Mena has theoretically no weapon to compete with the Leopards and the magic doublet, Mbokani-Mputu.
Nonetheless, Niger can count on its physique and discipline to outwit Claude Le Roy. In this sense, the Mena has an advantage: the power of its star striker, Moussa Maazou.
The player despite insufficient technical skills is able by himself to destabilize a defense with his speed and physique.
"This game, we'll play it calmly with our weapons against a very good Congolese team. It will be a very difficult match. But we're not obligated to win the cup as other countries. When we perform well the people of Niger is already proud. We don't have the same pressure as the Congolese. So we will play released, "said Maazou.
Moussa Maazou began with Niger May 31, 2008 in a match against Uganda. In total, he played five games. He was the architect of the victory of Niger against the seven times African champions Egypt (1-0) in the qualifying matches for Afcon 2012, October 10, 2010 in Niamey.
During the fifth day of qualifying for the Afcon 2012, he scored a goal in the win against South Africa, which made the Mena be the head of the group containing Egypt, South Africa and Sierra Leone.
For its part, the DRC has the feat against Ghana, snatching a draw (2-2). The Leopards have demonstrated their courage during this meeting and can say thank you to Mputu Treasury. TP Mazembe player, the true metronome remains the team leader of the sector of the DRC offensive. Mputu is often the cause of action and goals opportunities for the team of Claude Le Roy.
"This is a very strong team. Claude Le Roy (coach) has done a good job. I enjoyed the fighting spirit of the team, its movement, its power. It has a strong offensive potential with two top players (Dieumerci) Mbokani and (Treasury) Mputu. There is a speed at the sides. This team is composed of local players half and half of high-level professionals, forming a perfect cocktail, "admitted coach Gernot Rohr of Niger.
The Congolese striker is a fine dribbler, with a creative technique of dribbling as passes. His vision on the game is precocious and intelligent. His coolness and precision in front of goal are formidable.
It is also a good natured player; with leadership status that justifies his cuff in club as well as in selection. However, his impulsive nature often plays tricks on him, because he reaps many cards for a player of his position.