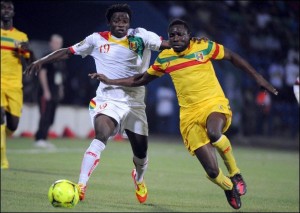 The Eagles of Mali have yet well started the game with a first attack in the 6th minute.
Seydou Keita and his teammates, who were attacked, pushed the Ghanaian goalkeeper to push the ball out of the hand. The determination should be heavier than the yellow.
The Eagles continue to dominate until 'the 12th minute when Asamoah Gyan shoots his gun at the entrance to the surface. Coulibaly goalkeeper deflects the ball. Ghana up a notch and the game resumes.
At the 23rd minute, Afful, left free, advanced and powerfully strikes. The ball passes over the goal. Pressure becomes constant. The Black Stars are becoming ancestry on their opponent up, to get a penalty in the 36th minute. Gyan Asamoaha has been tackled by Tamboura in the penalty area. Wakaso transforms and scored 1-0.
Mali reacts in the 45th minute. Following a cross, Daouda catches the ball in the air and hit while falling Diabaté. It is on this action that the referee sends both teams to the locker room.
On resumption, Keita searched for his captain but he is too short to take the ball. Patrice Carteron replaced Diarra by Maiga. This poses enormous problems for the Ghanaian defense but cannot find the fault. At the 60th minute, following a loss of ball by Vorsah, Maiga was unable to locate the center of Diabaté.
Ghana got back to the game and keeps the ball. 66th minute Gyan, back to goal, but keeps the ball was hit by Coulibaly, warned for this action. Mali has trouble to unbalance the Ghanaian game in the 73rd minute.
Momo Sissoko must give way to Sow in the 74th minute. 3 minutes later, Vorsah took the upper hand in the air, but his header goes next goals. 5 minutes from the end of the match, the Ghanaian coach seeks to preserve his achievements in bringing out the settings and put the defenders. Two changes were made.
In the extra time of 5 minutes, Mali pushed, but Ghana has not yielded. The rematch took place. Ghana took the chair waiting for the match Niger-Congo.