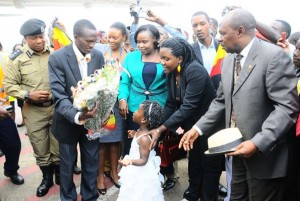 "Planning for your future should start early in life. I knew I wanted to become an athlete as a young boy. If you want to become a successful athlete or even become successful in life, you have got to have a target, a vision," Kiprotich, who was last week named the Nile Special-Uspa sports personality of 2012, said during a 15-minute motivational talk to over 600 students and pupils. "Every little thing you do must be focused on that vision. It should in one way or another contribute to that vision."
According to Olympic gold medalist Stephen Kiprotich setting a personal vision and working consistently in smaller but achievable steps, is the key to success both in sports and life.
Students of Kampala International School (KISU) were given an advice by the country's celebrity runner who delivered during their annual cross-country race, held at the school's Bukoto campus last Friday. Kiprotich officiated at the event that also included swimming, basketball and football competitions as a guest runner and chief guest.
The race was won by Nathan Girmay (23:07) followed by Jerry Kanyiri (23:29) and Winnie Sandhu (28.48). But prior to this 5km race, the lower class pupils had taken part in another shorter 3km event around the school as Kiprotich watched the proceedings.
"It's once in a lifetime opportunity to see Olympic champions," class nine pupils Ben Blaiser, who won the 3km event in 14:09.8 minutes, told Daily Monitor.
"I am delighted to see Kiprotich," first runner-up Canadian Leo Williams (14:10.07), said.
Read also:
http://en.africatopsports.com/2013/01/11/uganda-nambawa-and-kiprotichin-running-for-uspa-awards