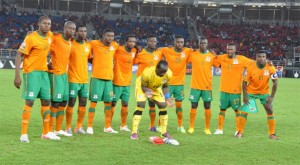 During the first day, Zambians and Nigerians were satisfied with a 1-1 draw against respectively Ethiopia and Burkina Faso (group C).
From the beginning of the match shock this afternoon, Zambia puts his foot on the ball and offers the first real opportunity. Already in the 4th minute, Musonda, who now plays on the right wing, and beyond that again Mayuka center of the head. But it is not framed.
Match is to the credit of the Chipolopolo. Nigeria has all the trouble to grab the ball. Emenike is served in the surface, but it is facing a very good defense of Sunzu.
The first real chance of the game comes to the 17th minute with an opening in the surface to Kalaba. Offset on the left, it does not ask and releases a half-volley that magnifying glass under a meter.
After domination of Zambia early in the game, Nigeria is now much better in his match and manages to forge closer ties with the purpose of Mweene. Zambia fell on the ground and begins to lose the battle in the middle.
The Super Eagles get a penalty in the 25th minute for a foul on a silly Nkausu hook Musa.
Obi Mikel, the Chelsea midfielder misses the opportunity to open the scoring. Mweene had gone the right way. The porter Zambia continues to be the imperial penalties sickened after Côte d'Ivoire last year and stopped trying to Ethiopian Said the first game.
Both teams go into the break on a score of 0-0.