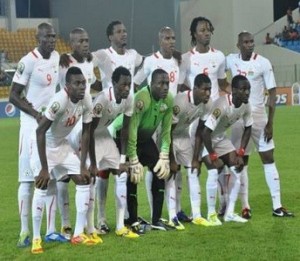 After their respective draw in the first day and one of the two favorites, Nigeria and Zambia (1-1), mid-afternoon, Ethiopia and Burkina Faso have a great role to play in race for qualification. Today's winner will take a serious option.
Another surprise of the group, Ethiopia shows his technique and physical face the champion of africa in title. His coach Sewnet Bishaw hope to see the same team tonight: "The players showed character and showed to the world that they knew how to play football."
Ethiopia start the game briskly. First Ethiopian offensive and hot first shot in defense of Stallions from the 5th minute. Gebreyes pierces Saladin and shifts to the left. It stands alone against the goalkeeper but saw his foot pushed out by the right post.
Ethiopians are trying to show their game quietly, but it lacks an anchor point in that they are able to influence the defense.
The 22nd minute of the game will be that of stallions with a goal disallowed. A shot from distance of Alain Traoré, rejected by Tadele. Sanou is the fallout of the ball to take the fly victoriously. But its purpose is canceled because it was out of the game
After a slow start, the Stallions begin to take the measure of their opponents. Sanou overflows on the left scrambling defense Ethiopian.
Efforts of Burkinabes become successful in the 34th minute thanks to their providential man. Kaboré bell center in the area of Ethiopia. A spin-off of the ball, A. Traoré control and no chance to Tadele the glaring a powerful recovery law.