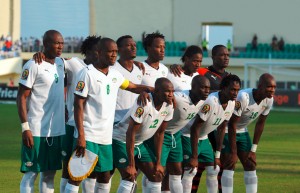 Africa Cup of Nations (AFCON 2013) both Burkina Faso and Ethiopia secure morale-boosting draws in their Group C matches, but to reach to the quarter finals of the competition, they need to build on those performances.
Bishaw will be hoping his charges pick up from where they left off against Zambia's Chipolopolo in the opening game.
The east Africans earned several plaudits for a display that secured them a credible draw against the defending champions, despite playing for more than an hour with ten men.
On the other hand, Burkina Faso's Stallions will feel prepared for this duel, and take comfort in the encouraging display in the 1-1 stalemate against Nigeria's Super Eagles in their first game.
Both coaches seem satisfied with the results earned thus far and have promised to prepare their players to build on from that form.
Both two teams' results were un expected, but thoroughly deserved, and the teams now have a chance to put one foot in the quarter finals when they go head-to-head in Nelspruit on today.
Meanwhile, Ethiopia will be without goalkeeper Bushura Tasew, who was red-carded against the Zambians, with his place likely to be taken by Derese Zerihun.
The team hopes will likely rest on the shoulders of the star striker Saladin Said once more; he is not just the country's leading scorer but also their creator of goals. He missed a penalty against Chipolopolo in the opener, but made up for it by laying on the equaoser for Adane Girma.
Coach Sewnet Bishaw would not be drawn on predictions for the match, saying only: "Every time you play against a different team things get tougher. We expect a tough game. The players shown their characters, and shown the rest of the world they can play football."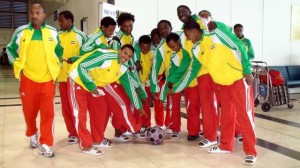 Burkina Faso probably go into the match favourites, given their greater experience at Nations Cup finals.
Coach Paul Put praised the battling qualities of his side in their draw with Nigeria, the point earned by that late, Alain Traore goal.
"Ethiopia is a surprise, which will not be easy," Put said. "We have taken some confidence and I hope we can continue to fight."
"Ethiopia will not be easy game game, it will be a different game," Put added. "We know the quality of Ethiopia, they circulate the ball very well physically, they are very strong and they are used to playing at an altitude o 3,000metres."
"So physically they are very strong. We have to be smart and use certain strategies to challenge them."
                               Group: C
Friday: 25th January, 2013.
At       : Mbombela Stadium, Nelspruit, South Africa.
Kick off: 17:00 – 15:00pm.
Burkina Faso's proposed lineups:
                                                           Diakite, H.Traore, 
                                                           B.Kone, Koulibaly, 
                                                           Panandetiguiri, Pitroipa, 
                                                           Rouamba, Kabore,
                                                           Koffi,A. Traore, Dagano.
Ethiopia's proposed lineups:
                                               Tadelle, Hailu,
Eliase, Tesfaye,
Butako,Bekele,
Megresa, Bekele,
Said,Kebede, Girma.
Read also:
http://en.africatopsports.com/2013/01/25/afcon-2013-ethiopia-seek-to-deepen-burkinas-cup-woes/