In both teams they all did well side by side received bookings but its only one person who became the 'Man' of the match who is the goalkeeper of Zambia Kennedy Mweene.
 A good intervention by Musonda as he clears the ball from an oncoming Emenike, but it took its toll. The defender looks in discomfort before gingerly returning to his feet.
 GOAL NIGERIA!!! That's the one Emenike was looking for, the striker is played through by Mikel with the Zambia defence in shambles and fires home, beating Mweene at the near post.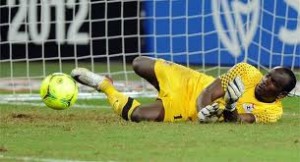 PENALTY!!! PENALTY FOR ZAMBIA!! Onazi makes minimal contact with Mayuka on the edge of the box and it's a baffling decision, but it stands all the same.
GOAL!!! Goalkeeper Kennedy Mweene shows Mikel exactly how to do it, calm as you like he placed it in the top corner to level this match. What was I saying just now? Oops.
A great kick, but really third-rate refereeing to give what was never a penalty. Nigeria will have a right to feel aggrieved, although they didn't exactly set the world on fire either in this contest.
And that's full time!! 1-1 between Zambia and Nigeria, Mweene gets his team out of jail late on from the penalty spot and it's another lead that's fallen by the wayside for the Super Eagles
Read also:
http://en.africatopsports.com/2013/01/25/afcon-2013-insight-of-the-1st-match-zambia-vs-nigeria/