How can we call him? The super hero perhaps… This is Nate Robinson.
While his teammates were led of 17 points in the third quarter time, Nate Robinson were there as a savior and handled the game in his favor.
"Kryptonate "set fire to the court to supply the victorious comeback (85-82).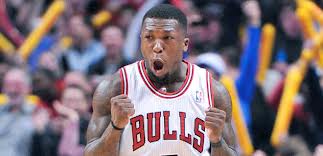 The Bulls did well not to cut him at the start of the month.
Watch here that incredible comeback:
http://www.youtube.com/watch?v=EbDvYown16w