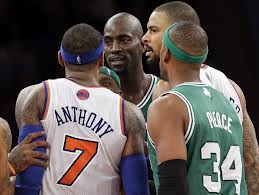 It was so long since Knicks did not carry any victory face to Boston (7 years). But things changed during these years and Knicks become forceful.
If everything was not perfect, just like Carmelo Anthony, New York showed strength, desire, which clearly missed the Celtics.
His third quarter-time was very good and the Knicks then approached the finish line with more serenity.
With 28 points and 9 rebounds, he is in his average points despite an ugly 11/28 to shoot.
Carmelo Antony is the MVP of the match.
Here is the video:
http://www.youtube.com/watch?v=DjsELg8l6Rk