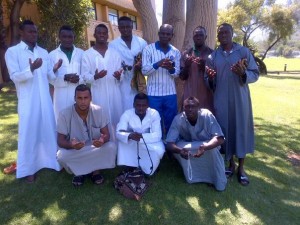 To confront Algeria Saturday at the Royal Bafokeng stadium, the Hawks need a divine blessing.
This is the case of the Muslim players making the team that went to the prayer meeting weekly Friday.
In this picture you can see back from prayer, Ayité brothers (Floyd and Jonathan), Gafar Mamah, Alaixys Romao, Baba Tchagouni, Sadat Ouro Akoriko, Vincent Bossou, Moustapha Salifou and SAPOL Mani.
Hopefully Allah hears the prayers of the Hawks to give them their first victory in Afcon 2013.
From our special envoy in Rustenburg, Steven Lavon.