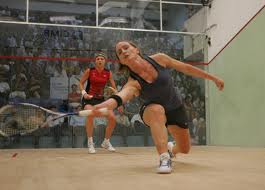 Natalie Grinham who is a defending champion will play, fellow Australian Kasey Brown in the finals of the J.P. Morgan Tournament of Champions Thursday evening on the glass court in Grand Central Terminal.
The 28-year-old Australian was remarkably consistent and patient as she consistently buried the ball deep in the back court in a clear effort to prevent Perry from playing her preferred game of volleying as much as possible. Brown, seeded third, earned her first trip to the Tournament of Champions final by playing steadfast and resolute squash to defeat top seed Madeline Perry in the semifinals. With Perry getting off to a particularly slow start, due in part to five strokes against her in the first game alone, Brown took the early lead by winning the first game 11-6.
 "It is extra special to for me to play here since I feel like this is home now," said Brown, who has resided in Greenwich, Connecticut for the past four years and had her own cheering section in the stands.
Brown will play defending champion Natalie Grinham, who now plays under the Dutch flag, easily defeated her older sister Rachael in the evening's first semifinal, 11-9, 11-2, 11-7. The most extraordinary thing about the Grinhams' match was that not a single let was called.
The result of the sisters' match may have been foretold by their very different responses when asked, at the conclusion of their quarterfinal matches, how each felt about playing the other.
Read also;
http://en.africatopsports.com/2013/01/14/squash-ibrahim-nyanzi-to-visit-uganda/