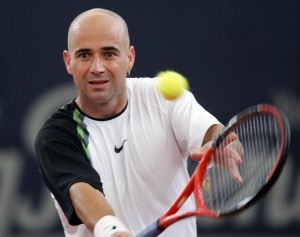 Agassi says one of the biggest regrets of his career was waiting until 1995 a full decade after turning professional to play in the Australian Open.
It took him a while to return to Melbourne after his retirement in 2006, too.
"It feels long overdue," Agassi said Friday when he walked into the news conference room at Melbourne Park in his first trip back to the tournament since his loss to Roger Federer in the quarterfinals in 2005.
The four-time Australian Open champion pulled out his cellphone and snapped a photo of the reporters crammed into the tiny space. "Do you mind if I memorialize this for posterity?" he asked the room to laughter.
Now 42 and the father of two children with wife Steffi Graf, Agassi is in Melbourne to take part in a ceremony before the men's final in Rod Laver Arena on Sunday night.
He's glad his career ended before the age of the so-called Big Four of men's tennis began because he doesn't think he'd be able to compete against the group Roger Federer, Rafael Nadal, Novak Djokovic and Andy Murray.
The game bears little resemblance to how he played just a decade ago, Agassi said. He "marvels" at the athletic ability of the top men's players these days and their ability to recover quickly after draining matches, such as Djokovic's epic five-setter over Stanislas Wawrinka in the quarterfinals this year.
"It's just a different standard of tennis," he said. "It's different rules of engagement when guys can do what these guys can do."
"It means the game has gotten a lot better. You know, Fed raised it. Nadal matched and raised it. Djokovic, for that intense little period of time, even raised it," Agassi said. "When I see those top three guys, I see what history will say is the golden age of tennis. You're talking about arguably the three best guys."
When asked what he'd need to do to beat a player of Djokovic's caliber, Agassi wisecracked, "I would have probably gotten in a fight with him in the locker room before the match. I might have had a chance."
Agassi also touched on the question of drug-testing in tennis and reflected on his own recreational drug use during his career.
In his 2009 autobiography Open, Agassi admitted to using crystal meth during his playing days in the late 1990s and lying about it to tennis authorities after failing a drug test, saying he had unwittingly consumed a spiked drink.
Agassi said Friday he believes tennis has always led the way on drug testing, but more transparency and greater accountability can only be a good thing.
"It would have kept me from destroying a few years of my life," he said. "That's what I did to myself with the use of the recreational, destructive substance of crystal meth," he said.
"Anything that can protect the integrity of the sport, and those that aren't cheating should absolutely be considered," he said. "The more (testing), the better as far as I'm concerned."