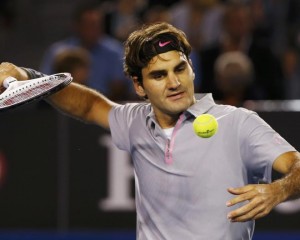 Murray's bid to become the first man in the open era to back up his maiden grand slam triumph with the title at the next major comes up against the considerable obstacle of Roger Federer in Friday's Australian Open semi-final.
While the U.S. Open champion has a 10-9 lead over Federer in their career meetings, he has never beaten the world number two in one of the four biggest tournaments in tennis.
The British third seed has never faced Federer before the final of a grand slam, either, and lost in the finals of the 2008 U.S. Open, 2010 Australian Open and 2012 Wimbledon Championships to the Swiss master.
Victory over Federer in a best-of-five-sets match at Wimbledon in the final of the London Olympics last year will have given Murray confidence he can break his grand slam duck against the Swiss on Friday.
"I feel probably a little bit calmer maybe than usual," the 25-year-old said on Wednesday.
"But I still have an understanding of how difficult it is to win these events. With the players that are still left in the tournament, it's going to be a very tough, tough few days if I want to do that."
Novak Djokovic, who will be awaiting the winner of the match in Sunday's final after beating David Ferrer on Thursday, is chasing a third successive Australian Open title.
Federer's quest, if there is such a thing for a man who already has 17 grand slam titles under his belt, is to become the first man in the open era to win five Melbourne titles.
The Swiss came through a tough five-set examination from Jo-Wilfried Tsonga to reach the semi-finals and is relishing the opportunity of testing himself against Murray again.
"I always enjoyed the matchups with him because it gets to be very tactical," said the 31-year-old. "He would make you doubt and play very different to the rest of the guys.
"I kind of always enjoyed that when it's just not every point's the same. We used to mix it up against each other."
Federer thinks Murray's game has altered since Ivan Lendl took over as his coach, which could change the nature of their encounters.
"It's changed a bit because he's playing more offensively so the rallies aren't as long and grueling as they used to be," he said.
In contrast to Federer's tough match against Tsonga on Wednesday, Murray has not faced much of test so far this year at Melbourne Park.
"I think you have to trust yourself that when you are tested you're going to play better tennis. You never know for sure," the Briton said.
"But I've done a good job so far in this tournament. I can't be disappointed about being in the semis of a slam without dropping a set. That would be silly."
Federer said he would rather be in Murray's shoes as he heads into his 10th straight semi-final at Melbourne Park but said there was also an upside to tougher encounters.
"That also gives you confidence when you have to go through those matches," he said. "The physical stamina was there, the focus was there till the very end. So it does give you a lot of confidence moving forward from here."