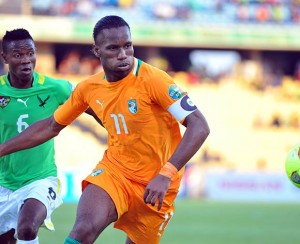 A win for Ivory Coast or Tunisia, who meet here this Saturday, could secure a pass to the Africa Cup of Nations last eight with one throw of the Group D dice still to roll.
A quarter-final ticket will go to the winners if the other game in the Rustenburg double-header between Algeria and Togo ends in a draw.
Ivory Coast and Tunisia occupy the top two places in the group on the strength of fortunate wins in their opening games.
The Ivorians failed to do justice to their status as 2013 favourites when putting in an error-strewn performance on Monday.
The game was heading for a draw after Yaya Toure's goal was cancelled out by Jonathan Ayite until Gervinho struck two minutes from time to clinch all three points.
On this evidence, if the Ivorians were at school their report would read: "could do a lot better".
China-based striker Didier Drogba, at his last Nations Cup, was out of sorts and hauled off with a quarter of an hour remaining.
The former Chelsea star, who turns 35 in March, acknowledged the work that needed to be done if his team were to lift a title that has frustratingly alluded this golden generation of Elephants.
And coach Sabri Lamouchi, while relieved at scraping a win, lamented his side's catalogue of mistakes in what he described as "the worst game since I took over".
He said: "It wasn't the best performance, we made lots of technical errors. My team can't put up the same performance against Tunisia, that's for sure.
"The difficulty was that when we had the ball we lost it too quickly, and defensive mistakes put us in danger.
"This match has to serve as a lesson to us."
Ivory Coast captain Kolo Toure, responsible for one of those defensive slip-ups which almost led to Togo's Emmanuel Adebayor pinching an early goal, urged supporters to defer judgment.
"Our next game against Tunisia might be a better scale to judge us," said the Manchester City defender.
Former Leicester player Sol Bamba put a bright spin on his side's laborious showing.
"We're going to take it step by step. We got three points against Togo, now we have to be ready for Tunisia.
"We know how important first games can be. It gives us more confidence now we've got three points and it's easier to wait for the second game," he told the BBC.
Like the top-ranked team in Africa, Tunisia were lucky to grab the points having been largely dominated by Algeria in the Maghreb derby only for young midfield maestro Yousuf Msakni to settle the issue with a last-minute goal.
This was a major boost for Tunisia coach Sami Trabelsi in his bid to make it to the knockout stages of a competition he competed in as a player in South Africa in 1996, losing to Bafana Bafana (The Boys) in the final.
"You have to be really patient in a match like that as they are often decided at the last minute," he said.
On facing Ivory Coast, Tunisia captain Khelil Chammam commented: "For sure it gives us motivation. I hope we can go right to the finish line."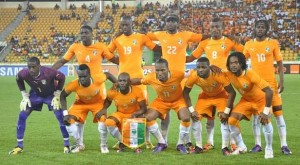 Tunisia's cause has been severely hampered by the absence of key striker Essam Jemaa, who misses the rest of the competition with a knee injury he sustained in the early stages against Algeria.
Tunisia, meanwhile, have history on their side as they prevailed 3-1 in the sides' only previous Nations Cup meeting in Port Elizabeth in 1996.