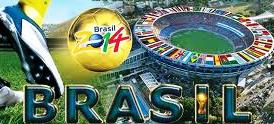 The Brazilian government on Tuesday ruled out risks of power shortages during the Soccer World Cup 2014 despite delay in electricity generation projects in 10 host cities.
"The delays in the [power] generation projects do not pose any risk of energy shortages during the Cup," said a statement from the national electrical energy regulator Aneel.
The daily Folha de Sao Paulo published a technical report from Aneel on Tuesday warning of delays in energy generation projects in 10 of the World Cup's 12 host cities.
Under the headline "For Aneel, there is a risk of power cuts during the Cup," the paper said that only the northeastern cities of Fortaleza and Recife could currently guarantee adequate energy supply.
Questioned by AFP, Aneel said the report carried by Folha focused on an assessment done in the third quarter of 2012 and no longer up to date.
"It is inaccurate to speak of a risk of energy shortage during the tournament," it noted.
Energy officials said they were confident the projects could be completed on short notice.
Meanwhile, Sport Minister Aldo Rebelo vowed that the government, Aneel and the companies concerned "are working hard to reduce not just this risk" but all those relating to the organization of the World Cup, the first to be held in Brazil since 1950.
Read also:
http://en.africatopsports.com/2013/01/07/serie-aitaly-transfer-talks-for-milans-robinho/