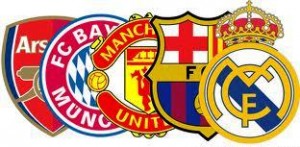 Real Madrid have become the first club in any sport to generate more than €500 million in revenue in a single year, according to the business advisory firm Deloitte.
The company's Football Money League, published for the 16th time on Thursday, sees Spanish champions Madrid retain their hold on first place ahead of perennial rivals Barcelona.
In an unchanged top six, Manchester United remains third, Bayern Munich fourth, European champions Chelsea fifth and Arsenal sixth, but English champions Manchester City soar five places to seventh.
AC Milan fall one place to eighth, with Liverpool remaining ninth and Italian champions Juventus rising three places to complete the top 10.
Madrid's revenue raised by seven percent to €512.6 million in the 2011-2012 season, equivalent to €414.7 million at June 2012 exchange rates.
It enabled the nine-time European champions to hold onto top spot in the ranking for an eighth successive year, matching United's record from 1996-1997 to 2003-2004.
"It is an impressive achievement for Real Madrid to have surpassed €500 million in revenue in a single year," said Dan Jones from Deloitte's Sports Business Group.
"Real have led the way in the phenomenal rate of revenue growth achieved by the game's top club, with the double-digit (10 percent) increase by the top 20 clubs  representing continued strong performance in these tough economic times.
"The combined revenues of the top 20 clubs have quadrupled since we began our analysis in 1996-1997."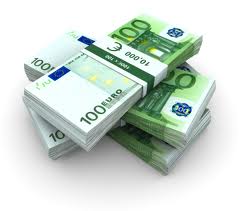 Madrid triumphed in the Spanish Liga in 2011-2012, ending three years of dominance by arch-rivals Barcelona, but lost out in the Champions League after being beaten by Bayern in the semi-finals.
Overall, the combined revenue of the world's 20 highest-earning football clubs grew by 10 percent on the previous year to reach €4.8 billion.
City's climb of five places was matched by German champions Borussia Dortmund, who rose to 11th, and Italian side Napoli (15th).
"Manchester City's Premier League title-winning season, combined with participation in the UEFA Champions League, helped drive 51 percent revenue growth to €285.6 million, the largest absolute and relative growth of any Money League club," said Deloitte's Austin Houlihan.
"The club's progress to the top of the English and European game means that they are set to remain a top 10 Money League club for the foreseeable future."
The only new entry in the list was English side Newcastle United, who moved into the top 20 at the expense of Spanish club Valencia after a surprise fifth-place finish in the Premier League last season.
The English top flight remains the well-represented league in the ranking, with seven of the 20 clubs hailing from the Premier League.
The Deloitte Football Money League 2013:
1. Real Madrid (ESP) €512.6 million
2. Barcelona (ESP) €483 million
3. Manchester United (ENG) €395.9 million
4. Bayern Munich (GER) €368.4 million
5. Chelsea (ENG) €322.6 million
6. Arsenal (ENG) €290.3 million
7. Manchester City (ENG) €285.6 million
8. AC Milan (ITA) €256.9 million
9. Liverpool (ENG) €233.2 million
10. Juventus (ITA) €195.4 million
11. Borussia Dortmund (GER) €189.1 million
12. Inter Milan (ITA) €185.9 million
13. Tottenham Hotspur (ENG) €178.2 million
14. Schalke 04 (GER) €174.5 million
15. Napoli (ITA) €148.4 million
16. Marseille (FRA) €135.7 million
17. Lyon (FRA) €131.9 million
18. Hamburg (GER) €121.1 million
19. Roma (ITA) €115.9 million
20. Newcastle United (ENG) €115.3 million
Read also:
http://en.africatopsports.com/2013/01/18/united-nations-invites-kevin-prince-boateng/