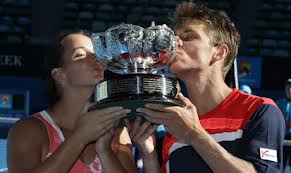 Matthew Ebden and Jarmila Gajdosova became the third all-Australian pair in the Open Era to win their home Grand Slam mixed doubles title, beating Frantisek Cermak and Lucie Hradecka.
Jarmila Gajdosova capped her home season with her first Grand Slam title on Sunday, winning the Australian Open mixed doubles title with fellow Australian Matthew Ebden at Melbourne Park.
No.2 seeds Leander Paes and Elena Vesnina and No.5 seeds Mahesh Bhupathi and Nadia Petrova, as wildcards, Ebden and Gajdosova took out two seeds en route to the final- even saving match point against Bhupathi and Petrova – then beating Frantisek Cermak and Lucie Hradecka for the title, 63 75.
"It feels amazing – extremely exciting to get a chance to play a Grand Slam final, first of all, and then to win it," Ebden said. "It's one of those things in life. You never know how many chances you'll get to play a Grand Slam final, so to come out with a win in our first final and get a title straight away, and to become Grand Slam champions, is an amazing feeling and something we'll always have."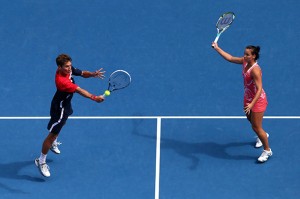 "This is something every person, every girl and guy, is dreaming of when they're little," Gajdosova said. "I know it's mixed, but it's still a Grand Slam title – to get that far, you have something you can talk about for a very long time. You can tell your kids, 'I won a Grand Slam.' And I won in Australia, which is very special. You have something forever, so it definitely means a lot. I'll never forget it."
Gajdosova talked about Ebden's influence on the court. "I always listen to what he says – he's the calming part of my game," she said. "Also, he tells me where he prefers I serve so he can help me at the net. I was waiting for the instruction and concentrating to hit a good serve, so he can do his ninja skills at the net. As long as I hit a pretty decent serve, we had a good chance of winning the point."
"She has an incredible serve, very powerful, one of the best on the women's tour – for me, she's one of the best players on the women's tour," Ebden said. "All the guys in the locker room playing mixed say she hits harder than the guys, hits bigger – she's tough and big on the big points, as well."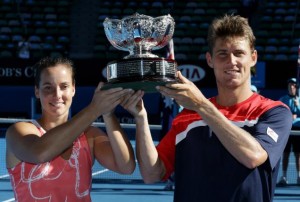 "She'll take a lot of confidence from this and head right back up there even further than she was."
"I'm sure it's going to get better and I will work hard. It's going to come back."
Ebden and Gajdosova are the third all-Australian pair in the Open Era to win the mixed doubles title here, after Mark Woodforde and Nicole Provis in 1992 and Scott Draper and Sam Stosur in 2005.
Read also:
http://en.africatopsports.com/2013/01/23/tennisaustralia-li-and-maria-finishes-the-australian-open