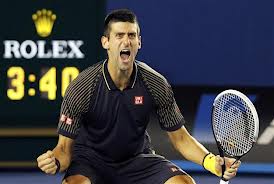 Novak Djokovic World number one wore down Andy Murray in an attritional four-set final to clinch a historic hat-trick of Australian Open titles and reaffirm his tennis supremacy on Sunday.
Serbian world number one lost the opening set in a tiebreaker but got progressively stronger to dominate the battle-weary Murray and won 6-7 (2/7), 7-6 (7/3), 6-3, 6-2.
At Melbourne's Rod Laver Arena, victory punishment fought out over 3hr 40min which brought Djokovic his fourth Australian crown and his sixth Grand Slam title overall, and confirmed him as the game's best and toughest player.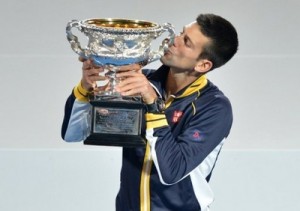 The 25-year-old became the first man in the Open Era and only the third ever to win three consecutive Australian Open titles, joining Australians Jack Crawford (1931-33) and five-time winner Roy Emerson (1963-67).
Djokovic, unbeaten in Melbourne since 2010, hammered Murray in straight sets in the 2011 final and outlasted Rafael Nadal over 5hr 53min to claim last year's trophy in the longest Grand Slam decider ever played.
"What a joy, it's an incredible feeling winning this trophy once more and it's definitely my favourite Grand Slam, my most successful Grand Slam. I love this court," Djokovic said.
The British world number three who is Murray, began strongly but he battled a left hamstring injury and blistered feet as Djokovic stepped up, winning the important points and most of the lung-busting long rallies.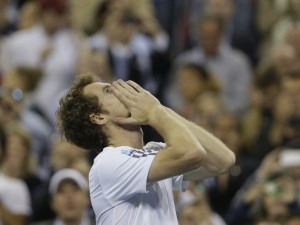 "I congratulate Novak. His record here is absolutely incredible and there are very few people who have managed to do what he's done here. He's a much deserved champion," Murray said.
"When you go two sets to one down, you know you really need to get off to a good start to the fourth set because most of the guys at the top of the game, when they got to the lead and momentum it's tough to stop them."
"I played a good second set. I created quite a few chances, didn't quite get them. But that was the difference."
It was Djokovic's second win over Murray in a Grand Slam final after the 2011 Australian final, and ended the Scot's unbeaten 13-match run in the majors since he beat the Serb in September's US Open decider.
And the Serb had to fight off three break points on his opening service in the second set as Murray remained in control.
Read also:
http://en.africatopsports.com/2013/01/25/tennisaustralia-andy-murray-read-for-roger-federer-in-the-semi-final/