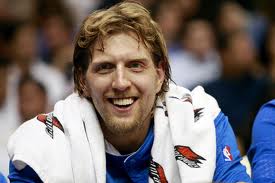 We all know Dirk Nowitzki… The winger of Dallas. Multipurpose, he is able to score inside as outside.
Faced with the Suns, a shot he has the secret, Dirk Nowitzki became the 18th leading scorer in NBA history.
With 24,375 points, the Mavs star exceeds henceforth Allen Iverson whose the abacus is stuck at 24,368 units.
The next aim will be Patrick Ewing.
| | | |
| --- | --- | --- |
| | Players | Points |
| 1. | Kareem Abdul-Jabbar | 38 387 |
| 2. | Karl Malone | 36 928 |
| 3. | Michael Jordan | 32 292 |
| 4. | Wilt Chamberlain | 31 419 |
| 5. | Kobe Bryant | 30 747 |
| 6. | Shaquille O'Neal | 28 596 |
| 7. | Moses Malone | 27 409 |
| 8. | Elvin Hayes | 27 313 |
| 9. | Hakeem Olajuwon | 26 946 |
| 10. | Oscar Robertson | 26 710 |
| 11. | Dominique Wilkins | 26 668 |
| 12. | John Havlicek | 26 395 |
| 13. | Alex English | 25 613 |
| 14. | Reggie Miller | 25 279 |
| 15. | Jerry West | 25 192 |
| 16. | Kevin Garnett | 24 928 |
| 17. | Patrick Ewing | 24 815 |
| 18. | Dirk Nowitzki | 24 375 |
| 19. | Allen Iverson | 24 368 |
| 20. | Charles Barkley | 23 757 |