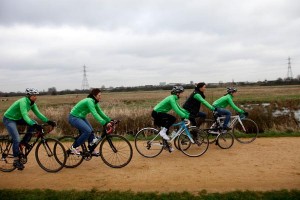 At a time when the issue of the lack of support given to women's cycling has never been a hotter topic, it's great to see the formation of this new team by the national cycling charity CTC. At last weekend, London Bike Show the CTC's elite women's racing team was launched.
The five strong riders team are comprised of Lydia Boylan (Elite), Nicola Juniper (Cat 2), Helen McKay (Cat 2), Tamina Oliver (Cat 1) and Astrid Wingler (Cat 2).
The team will compete in six overseas high profile UCI races, the National Women's Individual and Team Road Race series, whilst also taking part in the fast Smithfield and Newport nocturnes. Riders on the team will also act as cycling ambassadors, encouraging cycling as part of an active lifestyle by taking part in events and mass participation rides.
Read also:
http://en.africatopsports.com/2013/01/25/cycling-kentucky-nikki-harris-withdrawn-from-cross-worlds/