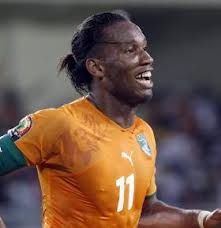 Yeah, I'm for my home country, Côte d'Ivoire! It goes, it must win Afcon, I keep saying it on my blog!
I loved the little phrase of my friend Drogba today. He was tired of losing Afcon! I too am tired of seeing them fail so close … "We have a team capable of great things in the African Cup of Nations 2013. It would be great to win the trophy now. Frankly, we are tired of losing every time.We showed great solidarity against Senegal. We fought together, everyone gave his best and it helped us to win. And now, everyone expects a trophy. We hope the cup for our country. "
Go Didier, this cup is for you, for the whole team and the whole Côte d'Ivoire! On paper, we are the strongest. On the ground too, I'm sure …
The team plays their eyes closed, so you have made us dream, come on guys, this time it is good!
What a party we will do!
Basile Boli. 15/01/2013