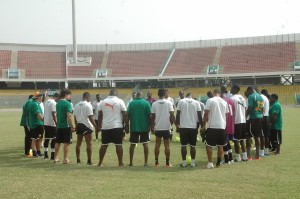 During their stay at the Cabanas Hotel in Rustenburg in the Sun City complex, the Hawks have not had a single day off. Each day with theft complaints.
From the earliest days, the money in cash (dollars, pounds, euros) and electronic devices (ipad, cameras) have disappeared as if by magic from the rooms of players and managers.
From Floyd Ayité (player) to Yaovi Assogba (coach guards), the band of Didier Six was in total insecurity. Despite numerous complaints from team officials in Rustenburg and investigations conducted by the staff of the hotel, nothing helped. Until the last day of their stay in Cabanas, the Hawks have been burgled.
Saturday, when the group went to the Royal Bafokeng Palace to face Algeria, thieves broke into the store that contained the equipment players. Jerseys, shorts and other working materials were stolen. Ayité Floyd was robbed his football boots.
Before leaving for Nelspruit, the Togolese leaders have complained to the hotel staff as well as to the CAF (Confederation of African Football) for an explanation and compensation.
From our special correspondent in Nelspruit, Steven Lavon