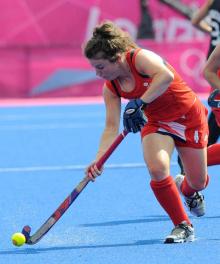 The week long tournament at the Hartleyvale Stadium will see England line up against Olympic gold medallists the Netherlands, Australia and hosts South Africa. For eight of the 18 strong squad, it will be their first taste of senior international competition.
Their experience will be bolstered by Pinoke's Beckie Herbert – who is three international caps short of a century – and experienced Reading pair Susie Gilbert and Sam Quek, the second co-captain. Laura Unsworth (pictured), who will co-captain the side, and Nicola White will be the only familiar names from the Olympic squad.
It's a new look England Women's hockey squad that will be travelling to Cape Town next month for the Investec Challenge, with only two of the London 2012 bronze medal winning team on the list.
While goalkeepers Maddie Hinch of Leicester and Kirsty Mackay of Bowdon Hightown, and Canterbury pair Dilly Newton and Susannah Townsend were all involved in the Great Britain training squad leading up to last summer's Olympics.
Four of the newcomers have made the step up from the successful England U21 women's squad that won the bronze medal at the Junior EuroHockey Nations Championships last year. Loughborough Students' Giselle Ansley, Surbiton's Sarah Haycroft, Leicester's Jo Hunter and Clifton's Joanna Leigh all play their club hockey in the Investec Women's Hockey League and were part of the side that overcame Germany in their last game for the Under 21s in August.
England will face the hosts South Africa in their opening match on Monday 4 February before taking on the Dutch the following evening. An 'ashes' clash with Australia rounds off England's group matches on Thursday 7th, with semi finals and medal matches following.
Investec Challenge Fixtures:
Monday 4 February: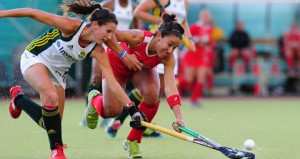 18:00 local time – 16:00 GMT – Australia v Netherlands
20:00 local time – 18:00 GMT – South Africa v England
Tuesday 5 February:
18:00 local time – 16:00 GMT – Netherlands v England
20:00 local time – 18:00 GMT – South Africa v Australia
Wednesday 6 February – Rest Day
Thursday 7 February:
18:00 local time – 16:00 GMT – Australia v England
20:00 local time – 18:00 GMT – South Africa v Netherlands
Friday 8 February – Rest Day
Saturday 9 February:
15:00 local time – 13:00 GMT – Semi Final 1: 1st v 4th
17:00 local time – 15:00 GMT – Semi Final 2: 2nd v 3rd
Sunday 10 February:
12:00 local time – 10:00 GMT – Bronze medal match
14:00 local time – 12:00 GMT – Gold medal match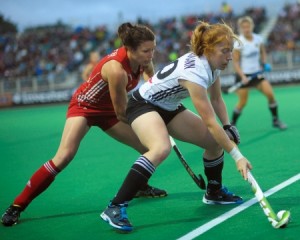 Full squad list:
Giselle Ansley (Loughborough Students)
Sophie Bray (MOP (NED))
Steph Elliott (University of Durham)
Susie Gilbert (co-capt) (Reading)
Sarah Haycroft (Surbiton)
Beckie Herbert (Pinoke (NED))
Maddie Hinch (GK) (Leicester)
Jo Hunter (Leicester)
Jo Leigh (Clifton)
Kirsty Mackay (GK) (Bowdon)
Dilly Newton (Canterbury)
Sam Quek (Reading)
Susannah Townsend (Canterbury)
Lauren Turner (HDM (NED))
Laura Unsworth (co-capt) (Loughborough Students)
Nic White (Leicester)
Read also:
http://en.africatopsports.com/2013/01/25/hockeyengland-chance-for-youth-to-impress/