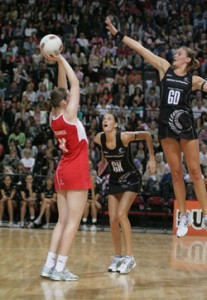 England's netballers made history this week, winning a series against world number 1 side Australia for the first time.  After taking the first test 58-53 in Bath, England made certain of a series win with a gritty and determined performance in the second game, winning it 51-49 after withstanding intense pressure from the Diamonds.
The Australian side, already weakened by the non-availability of several of its big names for the tour, had to contend with the loss of Captain Natalie von Bertouch due to injury before the start of the first game. Furthermore, this gave an opportunity for Queensland Firebirds' new signing Kim Ravaillon, who has now achieved her first two international caps before taking to the court in the ANZ Championships.
She was forced from the court late in the second test with an ankle injury but it is hoped that she will have recovered in time for the third and final match of the series, which takes place on Saturday in Birmingham
Von Bertouch returned home to Australia and underwent surgery this week to repair the damage to her finger, which was caused in a practice match against Northern Ireland last weekend.  The Diamonds captain is now in a race to regain fitness ahead of the start of the ANZ Championships season, where she will once again line up for the Adelaide Thunderbirds.
Finally, congratulations to the Singapore players selected for the country's U21 side which is set to face South Africa in a series of warm up games for the World Youth Championships during the first week of February.  The selected players are:  Koh Hin Ann, Nur Aqilah Afiqah, Olivia Chen, Kor Li Jie, Shelby Koh, Cheryl Ann Lee, Parveen Nair, Geraldine Ng, Jocelyn Ng, Siti Nurshawallah Binte Rashid, Farah Shakina, Tan Shini, Melissa Teo, Joanna Toh, Nur Athirah Bte Zulkiffle
Read also:
http://en.africatopsports.com/2013/01/26/netballengland-maiden-series-victory-over-australia