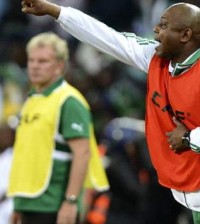 Ethiopia faces Nigeria in the third match of Group C.
After defeating Zambia and being beaten by Burkina Faso, Ethiopia is still in the race to compete in the quarterfinals.
Absent from the competition for thirty-one years, Walya could create a surprise in this group.
Many changes in the lineup after Ethiopian heavy 4-0 defeat against Burkina Faso at the second group match. The Keeper, the defensive line and midfield were replaced.
In the animation offensive system with two strikers is forgotten. OMO Okwury will support Said Ahm, the only survivor of the previous defeat.
Two changes in the starting eleven of Stephen Keshi: Mba entries instead of Nosa Emanuel Igebor and Ikechukwu Uche instead of Ahmed Musa on the right wing of the attack.
At kickoff, the Super Eagles displayed their intentions from the outset. They take away control of the ball against a team that seems to Ethiopian expect his opponent to play against.
Beginning of the match both teams do not show big thing in the game despite a big domination of the Super Eagles.
Nigeria save movement of the ball on his own. The work is long, Nigerians seeking an opening against a team regrouped in the 30 meters.
Until the half-hour between technical errors and lack of inspiration, the game really slow to start between the two teams as a possible qualification to the quarterfinals at stake.
After a difficult start, Ethiopia has gained confidence and began to project forward to surprise Nigeria.
Too often challenged by cons Ethiopia, Nigeria tries to take things up a bit in hand.
Despite the stakes, and the Super Eagles Walya going to break in a draw 0-0.