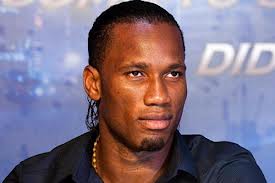 This is the transfer of the day! While playing the Afcon with Ivory Coast in South Africa – his country has been qualified this weekend for the quarter-finals; he has signed with Galatasaray in Turkey so. It will change China…
Read below about his life, his work…
– He was born 11 March 1978 in Abidjan.
–  Olivier Tébily is his cousin – retired since 2008 – Ivorian and international footballer who made his onset with Chamois Niort, Sheffield United, Glasgow Celtic.
– His brothers are Wilfrid and Jpël Drogba, Junior and Freddy Drogba also play football.
Loves:
– Married to Lalla Diakité.
– They have two sons and a daughter: Isaac, Iman and Kieran.
Course:
Ivorian international, he played in the biggest clubs in Europe before fascinating the Chinese. In 2012 he won the Champions League with Chelsea.
His clubs:
– He signed his first license in SC Feignies.
– 1989 he joined the Sporting Club Abbeville.
– 1991-1993: AGMB he plays in the Loiret
– At his 19, he joined Le Mans where he signed his first professional contract.
– 2002, he joined before Guigamp and he finished at three points of the Champions League!
– 2003: he signed for Marseille. He scored 19 goals in the league.
– July 2004: he joined Chelsea for a transfer valued at 38 million euros,
– June 19, 2012, Didier Drogba signed 2 and a half years of contract with the Chinese club  Shanghai Shenhua.
– January 28, 2013: he left and engages with Galatasaray while playing the CAN in South Africa.
Miscellaneous:
– March 10, 2012, he became the first African player to have scored 100 goals in the Premier League.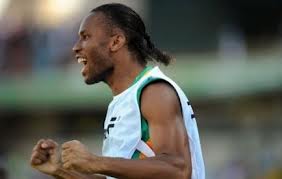 Palmares:
– Marseille:
2004: he played and lost the final of the UEFA Cup
– Chelsea FC;
Champion of England in 2005, 2006 and 2010.
Winner of the Champions League in 2012
FA Cup, 2007, 2009, 2010 and 2012
English League Cup: 2005 and 2007
– ivory Coast team:
Can: finalist in 2006 and 2012
Her small sentences:
– "Cristiano Ronaldo and Lionel Messi. "Inherently, there are two phenomena. We did not realize, but they have revolutionized the statistics. Before them, it was a feat to include thirty goals a season in a major championship. Them, it has been several years now that they are over forty. " France Football. November 2012
– "The African Cup next year will no doubt be my last. At one point in life, we must make decisions. I can also confirm that the 2014 World Cup if we qualify will be my last at international level " France Foot. November 2012
"This is not my last contract. If I'm still in shape at the end of my contract with Shanghai Shenhua in 2014, I will try a new adventure. Perhaps the United States." France Foot. November 2012
– "I wanted to experience another culture, another world. I've used. This experience is unlike anything I have known. Look around you, there are skyscrapers galore, but also not far away, where most of the population is formed of farmers" Le Parisien. October 2012.
"I really enjoy, even if the shift with London, where my kids stayed obliged me to wake late" in October 2012.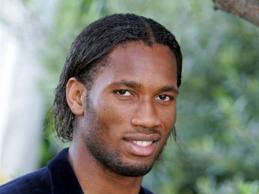 "" This is Nicolas Anelka who convinced me to sign in Shanghai. He also saves time in the adaptation. He made things easier in lots of areas. Both have marked Chelsea history, we won titles, broke records and  found in China, after that, somewhere, we made it clear that it was the end of a cycle . This is a nice gaze. " October 2012.
"My salary? Why do you think we work in life? When you work hard, you want to be increased; it is as simple as that. Our wage shock, especially in France. It makes always talk, but there are exceptions. (…) There is a jealousy face to the football players who have nothing in the brain and chase a ball, score goals and win millions. In life, I think we have what we deserve … " October 2012.
Didier Drogba has been nominated for the title of best communicating on social networks in Africa Top Sports Awards 2012:
Vote here: http://www.africatopsports.com/africatopsports-awards-2012/.