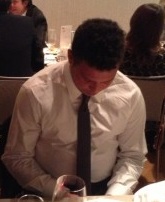 Monday as I had the chance to to be in Zurich for the delivery of the Golden Ball to Lionel Messi. And in the gala dinner … I photographed … this very experienced player … I asked:
"Who am I?
Question 10 bullets
I am I am I am
See you next week? "
I thought you would put more time to find, because he has changed the lascard.
He is of course Ronaldo Luis Nazário de Lima
Kudos to you!
His diet is super effective, as you can see on the pictures that I found …
Ronaldo showed 118.4 kg on the scale. And a body fat percentage of 25.5% and 107 cm waist.
Today, Ronaldo weighs only 98 kg and waist circumference increased from 107 cm to 94 cm.
"Throughout my career, I've always had a bad relationship with my weight. It was difficult at times but I never lost courage. "
Okay, I'll weigh myself … And maybe give it a call …