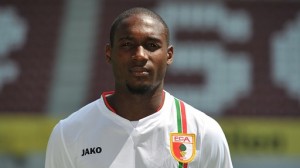 The Franco-Ivorian striker Giovanni Sio currently on loan at Augsburg, is courted by Sochaux.
The club's president Alexandre Lacombe has confirmed the information in the newspaper "Est Republicain".
"We are working on his coming," he said.
The player could join the club before the end of the mercato planned for 31 January. Giovanni Sio (23 years) trained in Nantes, has evolved in the colors of Real Sociedad (2007-2009), FC Sion (2009-2012) and VfL Wolfsburg before being loaned to FC Augsburg, another club in the Bundesliga .
To be continued……..