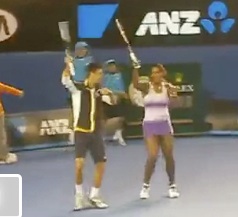 This week end, I came across this video. It changes us football … Look, I got a lot of fun. MRD….
During the Australian Open, Novak Djokovic has taught Serena Williams how to dance the Gangnam style dance.
Because when you see these pictures, obviously, the tennis champion passed alongside the phenomenon …
Well that said, I'm not too clever, because I'll have to repeat it a bit before posting the video on my blog.
Promised, sworn, I'll do it…
[youtube]http://www.youtube.com/watch?feature=player_embedded&v=fYLlGdcXl3k[/youtube]