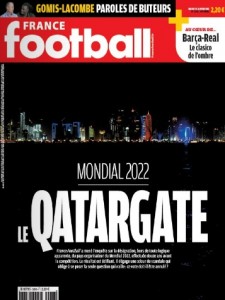 It is a bomb that launches today France football. According to a survey uplifting the conditions of allocation of the 2022 World Cup in Qatar, is the famous French football weekly which is denouncing acts of collusion and corruption is campaigning for the vote to be canceled? and so that the World 2022 could be reassigned?
An explosive issue that makes a lot of noise
"And if we reassigned the 2022 World Cup?", is the title of this explosive investigation. We can also read, "A World Cup by more than 50 ° C: does it make sense?" or "How many dead does one need to build stadiums?
What do you think?
Comment and rate! –
Should Qatar keep the World Cup? Yes, how can we ask that question once more?
No! It's a shame…
What is France Football meddling in?