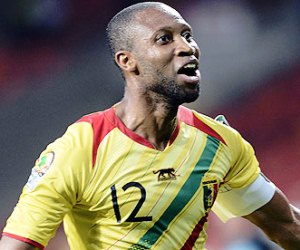 Seydou Keita won't let a possible disagreement over player bonuses spoil what he called Mali's "priceless" campaign at the African Cup of Nations even if it means paying some of the money himself.
After Keita's Mali progressed to the quarterfinals, the skipper said there could still be a problem over extra payments for players if they reached the semifinals by beating host South Africa on Saturday.
But the former Barcelona midfielder said he would help if it was needed, and stressed Mali's attempt to succeed at the African Cup and win a first ever title to bring some joy to its troubled homeland was "not about money."
"You cannot imagine how moved and happy I am to be here today and be able to play a match that will bring joy to my country," Keita said after Mali's 1-1 draw with Congo saw it reach the least eight. ''This is priceless. Money doesn't matter in such moments."
Mali has twice entered the cup with problems back home. At least year's tournament, Keita appealed for peace in Mali as a military coup unfolded while the team was playing in Gabon and Equatorial Guinea. There, Mali made the semifinals and eventually finished third for one of its best results.
This time, a French-led military intervention against Islamic extremists in their homeland has hung over the team's 2013 campaign.
With this in mind, Keita said his squad had "made an effort" to reduce their bonus payments.
"There might still be some disagreement over the bonuses for the semifinals, but we said we will work it out," he said. "I, myself, actually told the (sports) minister that if we made it to the semifinals and that there was still a disagreement over the bonuses, I could myself contribute to these bonuses."
Mali will come up against South Africa and 50,000 vuvuzela-blowing home fans in their quarterfinal in Durban, where the Malians will happily fill the role of the underdog, coach Patrice Carteron said.
"Now you know that everybody thinks South Africa will be the team to go to the semifinal, the pressure will be on them," Carteron said. "The stadium will be full with all the supporters for that team, but we are going to do our best."