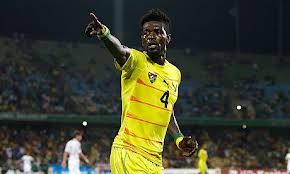 FULL TIME! TOGO GO THROUGH! For the first time in their history, they're in the quarter finals of the Africa Cup of Nations and it's the 2013 AFCON ! Tunisia will be left ruing a missed Mouelhi penalty!
This game has sprung into life yet again! Refereeing decisions take the attention from the actual football itself, but this is quite a spectacle!
Allthouogh there has been a lot of missed attempts kto gain a free kicks and penalties the Captian and Striker has successfully led his side to the final stage of the AFCON and he has proved to be the true accolade people want him to be.
Adebayor looks to be Togo's man of the day, he's has been really up for this game today! The frustration from the penalty decision seems to have spurredon him, and he had battled for every ball.
During the 76″ he was shown a Yellow card trying to defend his side.
90″ +5″ Substitution Emmanuel Adebayor  out and D. Womé in.
And with no further hestitations Emmanuel Sheyi Adebayor is named Man of the Match by the editorial staff of africatopsports.
Football can be interesting especially when a country like Togo make this kind of history with much expectations from a player like Emmanuel Sheyi Adebayor.
Read also:
http://en.africatopsports.com/2013/01/30/exclusivity-africa-sports-top-emmanuel-adebayor-just-pass-the-first-round/