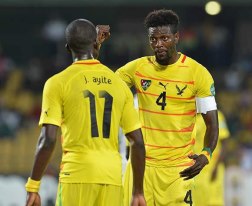 Will Emmanuel Adebayor Sheyi qualify Togo for the first time in the quarter-finals of the Afcon 2013? In any case all the attentions are fixed on the captain of the Hawks.
The final of Pool D will be played between Tunisia and Togo. Ivory Coast has already qualified by winning their first two games against Togo and to Algeria. The Greens with two defeats are already out of the race.
The last ticket is taken between the Hawks and Eagles of Carthage. Togo, which needs a draw, will rely on the captain Emmanuel Adebayor Sheyi and also on the goal, Agassa Kossi who nullified all Algerian net occasions. Tunisia will undergo a metamorphosis in the starting lineup due to the sickness of Youssef Msakni , suffering from a flu virus.
Emmanuel Adebayor: Didier Six knew he would achieve his feat in Afcon with the Tottenham striker "He brought us his effectiveness; it is extraordinary that he has returned, even if a team, it is not a player but 11 "suggested the coach of Togo.
Adebayor got confided to the Lord as the entire delegation of Togo since the beginning of the competition: "God willing, we will be in the quarterfinals, and then everything is possible in a game. I want to go for the first time in the second round of the Afcon. For my country, our history, our fallen brothers in Cabinda. "
Agassa Kossi will still be sought on Wednesday. His contribution will still be crucial for the team of Togo against Tunisia. His soaring allowed the Hawks to nullify the opportunities of the Greens. The Reims guardian is of one of the best porters of this Afcon. According to the polls, the former keeper of the Lomé Etoile Filante (Shooting Star) has been the most requested in this competition.
The Hawks do not often succeed in front of the Carthage Eagles. And on paper the prognostics are in favor of Tunisians although Togo needs just a draw to enter the quarterfinals. Will Sami Trabelsi dare let Youssef Msakni, suffering from a cold hold?
Youssef Msakni is the best player so far in this Tunisian Afcon 2013. His goal against Algeria, still maintains his formation in contention for yet another qualification. But the player  of Lekwiya SC is sick. A poor form that hovers over the Tunisian team that can also count on the defender, Aymen Abdennour.
Aymen Abdennour received a mission for this encounter, to counteract Emmanuel Adebayor: "I do not know much about Adebayor but I saw him play at Tottenham. He is a player who is fast, strong and intelligent. He cannot overcome alone the 11 Eagles who will play on Wednesday "reported the Tunisian defender at a press conference before the match.
Shock to follow at 5 pm GMT!
Read also:
http://en.africatopsports.com/2013/01/30/things-you-should-know-togo-vs-tunisia/