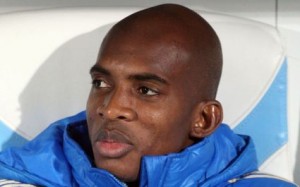 Of course I watched the game, Zambia, Burkina Baso! Well, I'm bored, the only suspense was whether Zambia, the African defending champion was going to be able to continue the competition or the startling Burkina Baso would make a surprise.
We have the answer! Me as a Marseille lover I must say that I supported Charles Kabore, the OM captain of Burkina Faso!
Congratulations Charles, you have delivered a great match! The whole Canebière is with with you!
You are right when you said after the match: "We are satisfied, but Zambia is a great team we respect very much. Tonight was a game that was to be closed, not conceding a goal, and that's what we did. Everyone worked for this qualification. There are deficiencies that must be corrected, but the time is the party tonight, and tomorrow we will return to work to the quarterfinals. "
Well you know I support you and I wish you much happiness for the rest of the competition, but my favorite is my homeland,  Ivory Coast!
Basile Boli. 29.1/2013