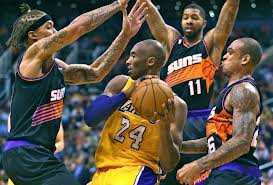 The Angelinos stayed on three victories before starting their first road trip.
With the metamorphosis of Kobe and Steve Nash, who made his return to Phoenix in a small shape, we were expected the resumption of series.
Led by Michael Beasley, author of his best game of the season (27 points), Suns disillusioned Lakers in the last quarter and won, 92-86.
And yet, with a 32-22 in the third act of this notice, D'Antoni's men took an option for victory. This was without counting Baesley, in fire in the last quarter, helped by Jared Dudley (11 points). Phoenix stun Lakers with a harsh score 29-13.
To return to his old room, Steve Nash was not shiny. The Canadian leader has compiled 11 points, 4 rebounds in only 2 assists. With 17 units, Kobe Bryant finished top scorer of his candor. But the Californian back was disappointing in money time.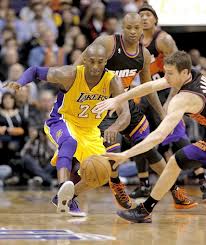 He has not had the same success as his previous matches at assists (9 assists).
Dwight Howard (9 points 14 rebounds) left tartan seven minutes from the end. Superman was again hit in the right shoulder. Remaining six games out of the Staples Center out to negotiate a place for the playoffs.
Here is the video:
http://www.youtube.com/watch?v=u7NFecgE-as