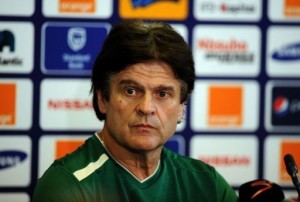 Didier Six like every Togolese are delighting. The Hawks are qualified for the first time in their history in the quarterfinals of the Afcon after their draw against Tunisia. The coach, too happy, do not think about the coming match. He first wants to enjoy their victory.
"It was very important to be qualified for the first time. We were the smaller team in this group, and we finally reach the quarterfinals.In the country, i think there is a big party in Lomé.
It was a very tough game, the other coach was an experienced one in the African Cup of  Nations and his team participated in 16 Afcon.
The Togolese team has played with its qualities and its heart; as a result he got the victory. We're not here to talk about the referee mistakes, because it can befall on us later.
The field was for both teams. It is not a problem for both Togolese and Tunisian teams, but it is the problem of the CAF. It should not accept to play on such a field. The CAF must take its responsibilities. We are just pawns; they just bring us on the field where we should play. Burkina Faso? This is not the time to talk it "