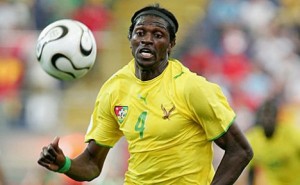 Emmanuel Adebayor and his country are rejoycing because of the fact that the Hawks are qualified for the first time in the quarterfinals of the Afcon after their 1-1 draw against Tunisia. He does not hide his joy and pride
"This is historic! There was a place in history waiting for us.
There were great players who classified us as the last in the group and today we proved the opposite.
Even if we have a very defensive team, we defend and attack together; I am highly satisfied tonight.
It is the first qualification for the second round of the Afcon.
I am very happy for the players and my country, I cannot even imagine what is going on at the moment, it must be very strong, especially since there are always people here. Maybe the referee did not see our penalties and whistled Tunisians ones.
Of course there was penalty on me but now the most important thing to consider is that we are qualified and Tunisia is eliminated. "