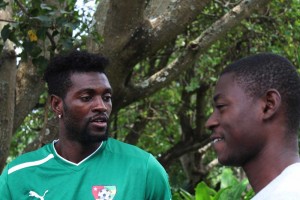 Thursday, calm in their base at Protea Hotel in Nelspruit, Emmanuel Adebayor, despite the fatigue of the day, agreed to answer our questions. Steven Lavon, Special correspondent of Africa Top Sports in South Africa, interviewed the captain of the Hawks of Togo on the match against the Carthage Eagles and his ambitions for the rest of the competition.
What is your state of mind after a performance that can be described as extraordinary?
You know, fatigue is still there, but it's normal since it has provided victory. Now we will consider the recovery because it was a tough game yesterday, mentally, morally and physically. We left everything on the field. God was also on our side, we qualified but it was certainly difficult but historic and impressive. I hope now that the games of the quarter-finals will be easier than the group matches. It is 90 minutes of something extraordinary, a semifinal of Afcon so we will focus on it. We will get the final. What makes me happy is that all players are concerned. They take pleasure in concentrating in order to do something extraordinary for Togo and this is what counts.
Speaking of probable final, you must already pass the quarters and there is Burkina Faso on the way …
It is certain that it will be a tough match. There are no easy games in this Afcon. We saw the qualities of Burkina Faso after their draw against Nigeria. They corrected Ethiopia 4-0 and finally they made a big match against Zambia. They have qualified players we know well but we too are super motivated. Alain Traoré is injured but there are still other dangerous players in the Stallions. We also know our qualities. Listen, everyone told me they would stop after three group matches and today there was still one more game. It is extraordinary beautiful to me and for my teammates. We want to do something for Togo and I feel that it is looming on the horizon.
Does the ambition grow for Adebayor?
You know I've always been ambitious in my career. When I win something, I still want to win tomorrow. So today, we are in the quarterfinals but I cannot satisfy myself with that. Remember after the qualification against Gabon in Lome, I said I wanted to go and win Afcon, so if you want to know my ambitions; it is to win the Cup. Do not tell me to stop in quarters or halves.
You know that today Lomé is boiling and expects more from you. Is this an additional pressure?
Every day is a pressure on the shoulders of a footballer but when you are right in the head, it is clear that you can easily happen to evacuate. For supporters, it is clear that we have echo but I personally do not call anyone in Lomé. I just want to concentrate on my job and do it well and we'll see. Unfortunately, I know how Togolese speak when they are happy. I was in when in 1998, Kader Cougbadja scored against Ghana at Afcon (2-1). We were out in the streets, there were dead. Today, I still hear these kinds of things but I want to ask them one thing: please don't kill yourselves! We still need you, your families need you and this is very important. I can understand their joy after such an historic qualification but thanks, rejoice wisely.
Interview by our special envoy in Nelspruit, Steven Lavon