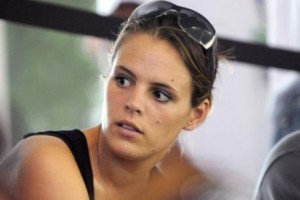 As expected, Laure Manaudou announced her retirement tonight at the Grand Journal on Canal +.
She took a first retirement in 2009 after the fiasco at the 2008 Olympics before returning back to the London Olympics in 2012 –
"I'm stoping. I swear that I'm stoping once for good and this time i won't come back again. I'm expecting a happy event. I think it was the right time to stop. I was lucky to have a competition in France; the European Championships is an opportunity to prosper before the French public. I was successful but I do not know if this situation can still the same. Unfortunately his does not depend on me; it is very difficult to still being the best. At a certain time it was crucial to make a decision and i make sure i do not take it when it is too late. "
She won three world champion titles in 400 m freestyle (2005, 2007) and 200 m freestyle (2007) and totalized  three Olympic medals, all won in 2004 (gold on the 400 m freestyle, silver in the 800 m free and bronze in 100m backstroke).
She has collected a total of 96 medals in 12 years of career; broke  seven world records, 15 European records and 78 France records (small and large basin).
Long live the family life now!